The Veteran Supported Education Service Treatment Manual: VetSEd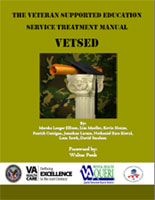 Download
(3.19 MB, PDF)
|
Go to MH QUERI Home
|
Background
As the number of returning service members from the Operation Iraqi Freedom (OIF), Operation Enduring Freedom (OEF), and Operation New Dawn (OND) wars increases, so does the need for these returning service members to successfully reintegrate into civilian life and to recover from some of the hidden wounds of war, which may include: mental illness, substance abuse, and trauma-related issues that can lead to unemployment and homelessness. Education has long been identified as an essential avenue to improved employment opportunities and residential stability, and education has been identified as an important service need for OIF/OEF/OND Veterans. As a result, Veteran Supported Education (VetSEd) - a recovery oriented, peer-delivered, supported education service for Veterans was developed to respond to this need. VetSEd is a comprehensive treatment approach that provides a framework for promoting the ability of our returning service men and women to successfully begin or continue their post-secondary education, often by utilizing the Post 9/11 GI Bill, upon returning home.
Recognition of the importance of advancing educational opportunities for Veterans goes as far back as the original GI Bill which provided hundreds of thousands of World War II Veterans the opportunity to go to college. This initial commitment to Veteran education was re-instantiated in the passage of the Post 9/11 GI Bill, which has greatly expanded tuition coverage and also provides housing and books stipends. The VetSEd approach was designed to specifically address the educational goals and needs of Post 9/11 service members who wish to advance their education, but who are also experiencing mental health, substance abuse and trauma-related disorders that have resulted in functional impairments that challenge educational goal attainment. Delivered in Department of Veterans Affairs (VA) settings, VetSEd is designed to assist OIF/OEF/OND Veterans in accessing and using educational benefits, including the GI Bill, so they can either begin or complete post-secondary education which will facilitate competitive employment and stable community housing.
Manual Contents
The materials contained in this document are meant to serve as a guide to aid VHA leadership, management and clinical staff in assisting returning OIF/OEF/OND Veterans with mental health conditions and/or related psychiatric disabilities and substance use disorders by implementing the VetSEd approach. We describe the VetSEd approach in three detailed parts:
Part One: a Summative overview for administrators and program designers interested in the VetSEd approach.
Part Two: a Treatment manual for peer VetSEd providers and clinical supervisors which includes Worksheets to be used by the peer VetSEd provider in delivery of the VetSEd approach.
Part Three: an Implementation Toolkit that contains background information and other guidance for program staffing, participant recruitment and clinical supervision.
Taken together, these three parts provide the organizational and conceptual framework of VetSEd, and a detailed description of the components required to implement and deliver the VetSEd approach.